Welcome to my new blog, Jim Stalker Writer, a collection of my assorted musings and reflections from my past fifteen years of writing.
I'm Jim Stalker, the man behind these words. In my writing, I delve into various subjects that spark my curiosity, aiming to uncover and comprehend the deeper truths that lie beneath the surface. Often, these truths defy expectations and popular notions, which brings a sense of irony to my blog's title, hence the title of my previous blog, 'Tell the Truth and Run.'
Below, I share some background on how this phrase found its way into my life while also providing a bit of my personal history. I hope you enjoy not only this backstory but also the diverse articles that this blog hosts!
A Bit of Backstory
In my youthful innocence as a thirteen-year-old in eighth grade, I eagerly handed over my $2.50 to the cashier at B. Dalton Pickwick Books, the sole bookseller at the outdoor mall in Peninsula Center. This mall was situated in Palos Verdes, a Los Angeles suburb often called "P.V." or "The Hill" by locals. I later discovered that Palos Verdes meant "green sticks" in Spanish. "P.V." encompassed four cities: Rancho Palos Verdes, Rolling Hills Estates, Rolling Hills, and the town I resided in, Palos Verdes Estates.
Penn Center, constructed in 1960, was anchored by Buffum's, J.J. Newberry, and Lucky Supermarket. In 1973, these stores thrived without any indication of the slow decline that would befall them in subsequent decades, resulting in them becoming vaguely familiar names today, perhaps only mentioned during a board game with a trivia component.
The outdoor mall of Penn Center, depicted in the provided picture, exemplified the endless possibilities made available by the consistently superb weather that graced Southern California. As someone hailing from New Jersey, this mild and predictable weather and the outdoor mall culture it fostered were revolutionary and delightful to someone from the East who had wished for a snow day. This reliable weather and the economic and lifestyle choices it facilitated attracted people from all over the world to settle in the southland, fueling decades of growth and innovations that spread across the globe.
Aerospace, driven by the final wave of the industrial, military complex, provided excellent, high-paying jobs. With decades-long soaring job numbers, companies like Hughes Aircraft, Northrop, and Lockheed surpassed the previously-dominant entertainment business.
My father was part of this wave, working for a company that developed a small yet vital switch called a relay, which became ubiquitous on circuit boards and vital throughout the aerospace industry. His engineering background was typical of the residents of the Hill seeking a short commute to South Bay cities like Torrance, El Segundo, Long Beach, and other thriving aerospace locations. Intelligent and practical like engineers are!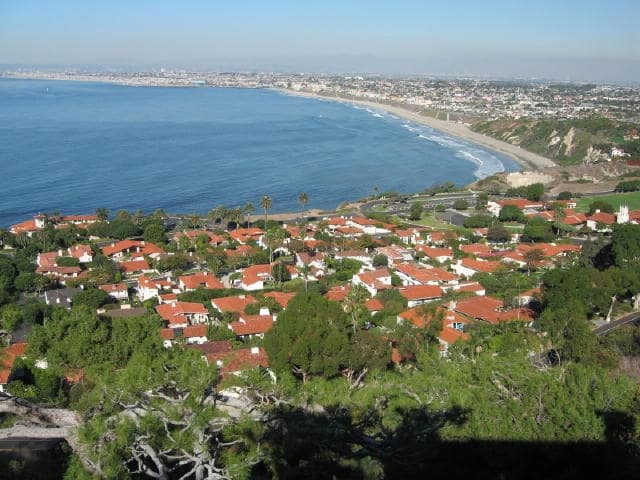 During that time, Palos Verdes offered an attractive premium alternative to the quirky beach communities that flourished amidst the aerospace boom. Manhattan Beach, Hermosa Beach, and Redondo Beach had their charms but appeared less family-oriented with their single's bars and late night scene than P.V., where the schools were admired.
Despite its ocean views, open spaces, and growing infrastructure, the area remained somewhat undervalued – a well-kept secret of sorts in the late 1960s and 1970s, mainly famous for its Marineland park. Despite rivaling Malibu and Pacific Palisades for pure coastal nirvana, even today, most people have never heard of it this beautiful area where I was able to grow up.
Return to Our Story
The book I bought that day was "The Great Quotations" by George Seldes, and it became a treasured addition to my bookshelf, despite its bargain-bin appearance and unimpressive design. With over a thousand pages filled with ten to fifteen quotes per page, it offered a wealth of beautiful and unfamiliar quotations.
Reading the book cover-to-cover turned my reading experience into a fun treasure hunt as I sought out these well-crafted lines of wisdom. I found myself captivated by the power of quotes. I would jot down my favorite ones, commit them to memory, and even incorporate them into my conversations to appear more brilliant than I indeed was.
Little did I know then, my short and intense attention span, now known as ADHD (as ADD wasn't recognized until 1980), perfectly aligned with the appeal of these bite-sized nuggets of truth. Their ease of remembrance undoubtedly contributed to my fondness for studying philosophy in college, as the discipline is rich with profound aphorisms. The combination of depth and humor found within those quotes fueled my passion for philosophical exploration.
Among the countless memorable lines in the book, one that stood out was attributed to Socrates by Plato in "The Apology": "The unexamined life is not worth living!" As a high school sophomore encountering this quote, I couldn't resist crafting a witty retort: "The over examined life isn't worth living either!" Alas, my comment failed to resonate with others.
And then, on page 917 of "The Great Quotations," I stumbled upon the quote that eventually inspired my blog's name: "Tell the Truth and Run." This simple yet profound statement underscored the importance of honesty and integrity, even when faced with the temptation to evade the truth in challenging circumstances.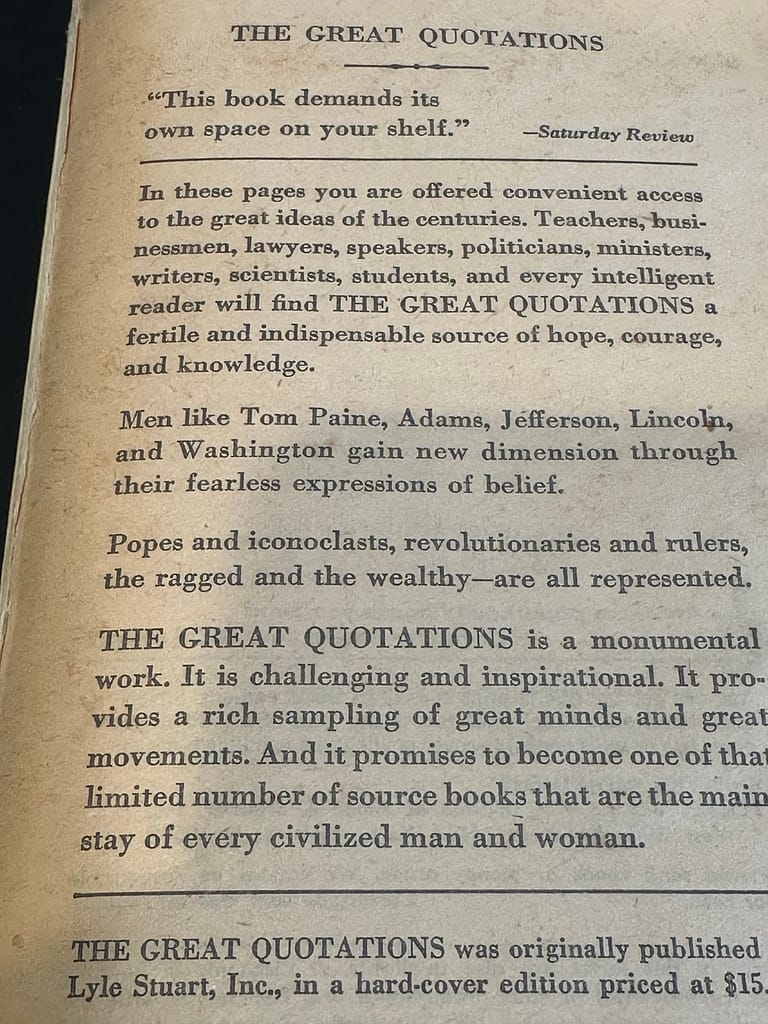 Reflecting back, it's remarkable how a compilation of quotes like "The Great Quotations" can have such a profound impact. The book provided me with an appreciation for the wisdom and beauty encapsulated in concise expressions and fueled my intellectual curiosity and love for philosophical ideas.